Ana Q - Celebrity Chef and Reality TV Star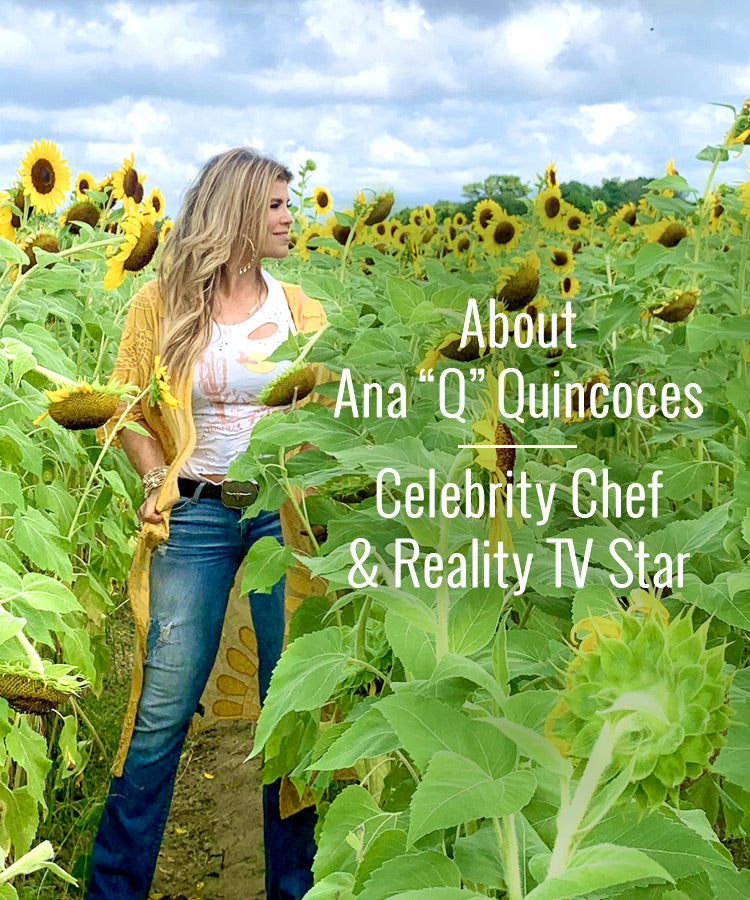 Biography
Ana Quincoces is a former real estate lawyer turned celebrity chef, food entrepreneur, cookbook author and TV personality.  As a cast member of Bravo's The Real Housewives of Miami, Ana parlayed her celebrity into a thriving brand. She's written three cookbooks: Sabor! A Passion for Cuban Cuisine, Cuban Chicks Can Cook and The Versailles Restaurant Cookbook and is currently working on number four Modern Cuban: A contemporary Approach to the Classics. Ana is also working on a series of children's books focusing on timely subjects and geared towards girls. The first Lola Loves Her Self-ie is due out this summer.

Ana is the creator of Skinny Latina, a popular line of Latin-inspired cooking sauces and marinades sold nationally in over 5,000 retailers including Whole Foods, Walmart, Publix, Kroger, Winn Dixie, Albertsons, Jewel and Harris Teeter. Ana's platform has led to endorsement deals with some of the world's biggest brands, like Target, Unilever, Olay, Smithfield, Estee Lauder, Goya, La Llave, Mazola, NASCAR, Nestle and others. Ana was a finalist on Food Network Star, Season 12 and later appeared as a judge on Fox's Hell's Kitchen with Gordon Ramsay and Telemundo's MasterChef Latino. She is a regular judge and host at SOBEWFF events and is a highly sought after host for many culinary and entrepreneurial events.

Ana has guest co-hosted major talk shows including The View and The Chew. She also hosted Fox's Utilisima Puro Chef in Buenos Aires and for several years co-hosted "The Daily Flash", an internationally distributed news and entertainment program airing on the CW. Ana's business Skinny Latina was featured on CNBC's The Profit where billionaire Marcus Lemonis seeing the potential of her brand became one of its investors. Ana has been a guest on The Today show, Watch What Happens Live with Andy Cohen, Telemundo's Un Nuevo Dia, Univision's Despierta America, and HLN and CNN as a legal correspondent. Ana recently appeared on Celebrity Family Feud, Jeff Lewis Live on SiriusXM and has a popular podcast Mami Issues, with her daughter Beba, where they showcase their unique mother/daughter dynamic in a tongue in cheek and entertaining way. She has had countless features in print as well.

Ana has been a keynote speaker for various conferences around the country including Walmart Open Call, Hispanic Leadership, Women in Business, The American Bar Association's Bench and Bar Conference, and The Latina Coalition. Hispanic Roots
Ana's love of Cuban food and culture and her desire to create a lasting legacy for her daughters prompted her to leave a 20-year career as a lawyer and follow her passion. This led to a career in food and cooking as well as other entrepreneurial pursuits including Skinny Latina, ZipEazeTM and four cookbooks and a children's book to date. Ana enjoys speaking throughout the country inspiring women to "reinvent themselves", something she has done successfully and with aplomb. Not one to shy away from her truth, Ana has been vocal about both her successes and setbacks in business as well as her struggle with mental health. Family Comes First
As a mom to two millennials, Ana Q has learned to speak everyone's language and is truly bilingual. Brands particularly love working with Ana Q because she possesses the unique combination of being both relatable and aspirational. Despite all her accomplishments and accolades, Ana's number one priority remains her daughters. Ana Q credits being a role model for Kati and Beba and now her baby granddaughter Lola as the driving force behind everything she does.